Through Pax Proofreading, I offer a final polish to any article, paper, advertisement, brochure, biography, short story, or other written work. This involves examining the text for typographical errors and mistakes in grammar, style, and spelling. If there are areas of confusion, I will note them and suggest ways to clarify meaning. After I proofread your project and you approve of the suggested revisions, it will be completely ready to print.
As a native speaker of American English, I have an excellent grasp of the English language. If you are writing papers or business introductions with English as a second language, I can help you sound more professional by correcting obvious or even subtle grammar errors.
Being a college graduate and a teacher, I am accustomed to studying, researching, writing, and preparing work by a deadline.
In 2017, I completed all nine modules of General Proofreading Theory & Practice through Caitlin Pyle's Proofread Anywhere program. Since passing the exam, I've been listed on the Self-Publishing School (SPS) Preferred Outsourcer Rolodex.
My proofreading and editing experience includes children's picture books, Christian memoirs and non-fiction, how-to manuals, and transcribing Catholic faith-defender videos. As a writer, I have contributed content for Catholic blogs and saint stories as well as outlining the teachings of the Catholic Church.
I am detail oriented and thorough in my work. I will strive to help your writing be as clear as possible in conveying its intended meaning. I am courteous to clients and work well with deadlines. I will take on a project only if I am completely certain I can have it completed by the time it is due.
I generally use The Chicago Manual of Style and the Merriam-Webster Dictionary, unless otherwise requested.
If you have a project that needs a final check, contact me. I will help you find peace with your final copy.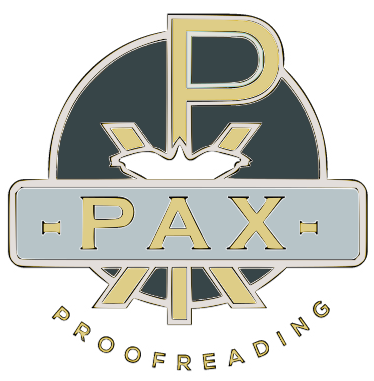 Myriah helped edit my book in a professional, helpful, clear, and concise manner. She found typos, corrected grammatical errors, and even made suggestions for catchy chapter titles and how to adjust confusing sections. She clarified the vision and scope of my book. I would highly recommend Myriah for any kind of book editing! ~Bryan Mercier, motivational speaker and author, Why Do You Believe in God?: Catholic Conversations with Skeptics and Non-Believers
Myriah did a wonderful job editing my children's book. She was very responsive and completed the job quickly. I was impressed by her thoroughness and attention to detail. Thank you for a job well done. ~Kat Pendergast, Author of Pickles the Dog series, Speaker, Entrepreneur
Myriah is so funny! She creates the perfect words and structure that you just didn't think about as you were writing. I didn't think anyone could edit better than my last editor. As I was going through her edits, I realized how important it is to hire an editor. She is great. She knows how to tell you your structure doesn't make sense without hurting your feelings. In my book, Dear Son, I believe she enjoyed adding a woman's view to my masculine bias. It turned out great. ~Kevin Brown, Christian author
I have had the pleasure of working closely with Myriah over the years. She has assisted with our organization in various ways: promoting a positive image with eye-catching formatting for brochures, generating good phrasing catered to our targeted audiences, while also correcting grammatical structure and proofreading punctuation in press releases. Myriah has always been professional and easy to work with, especially with her ability to generate content in a timely manner. The growth and success of our organization can be attributed to her many contributions. ~Amy Shamburger, organizer and web administrator, Louisiana Natural Birth resource center and support group
Myriah has published our homeschool group newsletter since 2014, and more recently took on the position of secretary. She is a fantastic team member and frequently jumps in to help before being asked. She has an amazing talent for writing and is punctual with revisions as well as deadlines. We get many compliments on our newsletter for both its information and its visual appeal. As secretary, she recently revised our member manual under a very tight deadline. Her time, attention to detail, and dedication to delivering professional work is greatly appreciated by our membership. ~Jennifer Ledoux, director, Holy Family Homeschoolers