Through Pax Proofreading, I offer a final polish to any article, paper, advertisement, brochure, biography, short story, or other written work. This involves examining the text for typographical errors and mistakes in grammar, style, and spelling. If there are areas of confusion, I will note them and suggest ways to clarify meaning.
Detail-oriented and thorough. I strive for consistency throughout the work; if addressing comrades, friends, or besties, the word should always appear as y'all, not ya'll.
Much of my writing style tends toward reflective ruminations, sifting through emotional shards to form a meaningful whole, sorting through disarray to discover order and peace. I prefer rhythmic cadence, whimsical wordsmithing, painting pictures with words, utilizing metaphors and allegories.
Most readers say my writing makes them think, and even tear up a bit sometimes. Not always a bad thing in this distracted, entertainment-saturated culture.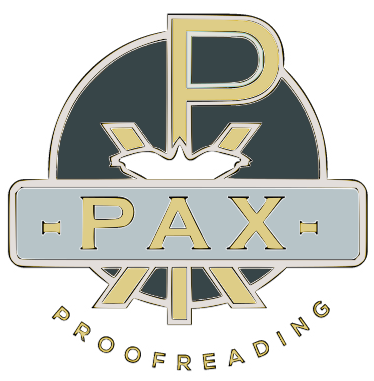 "It's such a relief to have someone with your skill 'fix all of these errors. I also greatly appreciate your spiritual and theological suggestions!" ~Kelsey Doherty, creator of Pathfinders Confirmation program
Myriah helped edit my book in a professional, helpful, clear, and concise manner. She found typos, corrected grammatical errors, and even made suggestions for catchy chapter titles and how to adjust confusing sections. She clarified the vision and scope of my book. I would highly recommend Myriah for any kind of book editing! ~Bryan Mercier, motivational speaker and author, Why Do You Believe in God?: Catholic Conversations with Skeptics and Non-Believers
Myriah did a wonderful job editing my children's book. She was very responsive and completed the job quickly. I was impressed by her thoroughness and attention to detail. Thank you for a job well done. ~Kat Pendergast, Author of Pickles the Dog series, Speaker, Entrepreneur
"Honestly, you are the best! Thank you so, so much for all of your work with me on this." ~Melissa Ahonen, Author of It's Okay to Be Me: Daily Affirmations for Children
Myriah is so funny! She creates the perfect words and structure that you just didn't think about as you were writing. I didn't think anyone could edit better than my last editor. As I was going through her edits, I realized how important it is to hire an editor. She is great. She knows how to tell you your structure doesn't make sense without hurting your feelings. In my book, Dear Son, I believe she enjoyed adding a woman's view to my masculine bias. It turned out great. ~Kevin Brown, Christian author
I have had the pleasure of working closely with Myriah over the years. She has assisted with our organization in various ways: promoting a positive image with eye-catching formatting for brochures, generating good phrasing catered to our targeted audiences, while also correcting grammatical structure and proofreading punctuation in press releases. Myriah has always been professional and easy to work with, especially with her ability to generate content in a timely manner. The growth and success of our organization can be attributed to her many contributions. ~Amy Shamburger, organizer and web administrator, Louisiana Natural Birth resource center and support group
Myriah has published our homeschool group newsletter since 2014, and more recently took on the position of secretary. She is a fantastic team member and frequently jumps in to help before being asked. She has an amazing talent for writing and is punctual with revisions as well as deadlines. We get many compliments on our newsletter for both its information and its visual appeal. As secretary, she recently revised our member manual under a very tight deadline. Her time, attention to detail, and dedication to delivering professional work is greatly appreciated by our membership. ~Jennifer Ledoux, director, Holy Family Homeschoolers